Posted by Camille on 23rd Feb 2012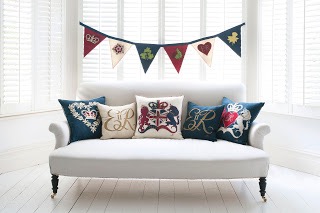 Designing my collection for the Queen's Diamond Jubilee was a dream project for me. During times of great national celebrations such as a Royal Wedding or a Jubilee the Queen very generously grants designers like me the freedom to use Her Majesty's royal symbols. Being renowned for my iconic British designs, I couldn't wait to start stitching the Royal Insignia.
I love the whole Royal Business and think we're incredibly lucky as a nation to have our beloved Queen, a shining beacon of solidarity in these economically tough times. Hopefully I've captured the love of the nation in my designs by embellishing everything with my ubiquitous red heart along with other symbols such as the crown and the flowers of the realm signifying England, Ireland, Scotland and Wales. The Diamond Jubilee will kick off a truly remarkable summer for Britain and elevate us above all other countries while we celebrate how great it is to be British – nobody does it better!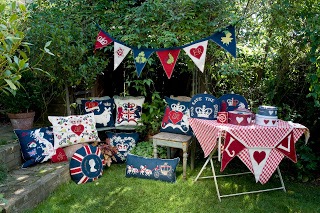 Here is my celebratory Diamond Jubilee collection which has already been featured on ITV's Alan Titchmarsh Show, ITV's This Morning, the star of the Sunday Times Home Section, a big spread in our local Cheshire Life and the subject of countless trade articles - make your Diamond Jubilee a year to remember with my hand-embroidered heirlooms of the future... Which one do you like best?