Posted by Jan on 19th Jun 2016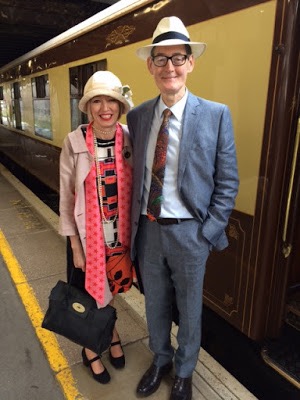 Ever since my college days, when I first read about the renovated 1920's and 30's carriages of the Orient Express, I have dreamt of taking the journey aboard that iconic train from London to Venice. For years I visualised myself travelling in style on this magical train, dressed just like the flappers who took the train almost a century before.
Last summer David and I booked the last compartment available for our anniversary and earlier this month, we fulfilled our dream and journeyed from London to Venice on the Orient Express. It was just divine!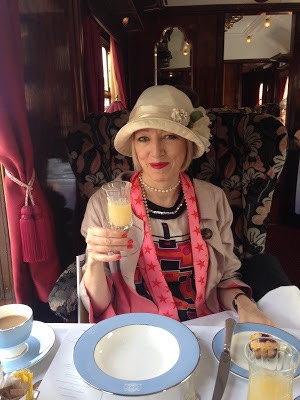 Happy Anniversary!
We boarded the Belmond British Pullman at London Victoria Station on a very sunny morning a couple of weeks ago and even though I was the only person in vintage costume, I didn't feel out of place at all. In fact I felt incredibly in place as we stepped back in time and into another world - we were so excited to begin our celebration journey.I wanted to dress up for the occasion and travel in character, as if I was in an Agatha Christie novel. A couple of days before the journey, I had such fun trying on and selecting my 1920's vintage costumes ready for this magical journey!
Our carriage was Cygnus - there's a wonderful story to each and every carriage. This one was designed in 1938 as a first class parlour car but then put into storage until after the war and completed in 1951 to became part or the famous Golden Arrow which was refurbished for the Festival of Britain. Cygnus exudes a warmth and sophistication with its Australian walnut panels, mirrors and old prints. Even the floor in the loo has its original mosaic tiles depicting a beautiful swan.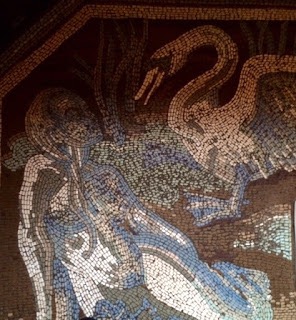 Swan mosaic floor tiles in Cygnus
The carriage has been used for travelling royalty and visiting heads of state but its most profound moment was in 1965 when it was used as part of Sir Winston Churchill's funeral train. In 1976, while in service for a private Yorkshire steam service, Cygnus starred in the film 'Agatha' with Vanessa Redgrave and Dustin Hoffman. It was bought by Venice Simpson-Orient-Express in 1977 and restored to its former glory.
Luxury is the word - as soon as we boarded, we were given a Bellini to raise a toast to our special anniversary. We ate brunch as we chugged along, passing familiar south London stations and rolling deep into the Kent countryside. Other couples in the carriage were quietly celebrating too, in their own magical worlds. I was curious to know which celebrations had brought everybody aboard, so I walked around the carriage and asked the question. It was lovely! There were two sets of 80th, a 50th and a 40th birthday. There were two Ruby Weddings, an early retirement, a honeymoon, a bucket list tick from America and a celebration for the love of being on the train - all the way from Canada. The couple opposite were travelling to Paris and were hoping to have dinner the following day on a Seine river boat cruise - if the flood had subsided! Everybody was happy and enjoying this fabulous train journey.
Upon arrival at Folkestone, to join the Eurostar via luxury coach, there was a jazz quartet to welcome us and keep us in carnival mood.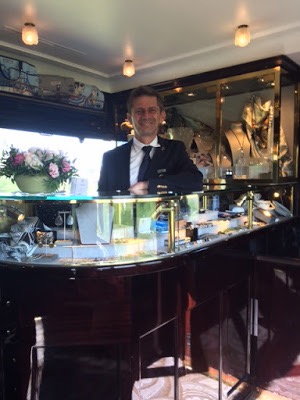 We reached Calais and were greeted by a row of stewards lined up along the platform in front of the gleaming Orient Express. What a picture! We were shown to our compartment by our Venetian steward, Ricardo - it was just gorgeous! We all left our doors ajar as we sipped champagne and planned our next steps - the atmosphere was like 'kids at Christmas' as we chatted and laughed, passing one another and peeking into each others spaces.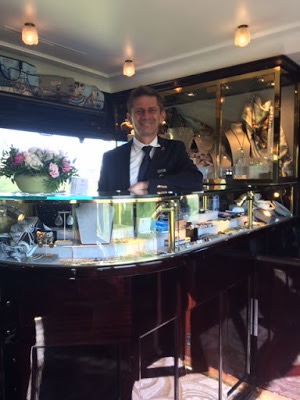 Massimo manages The Boutique aboard the Orient Express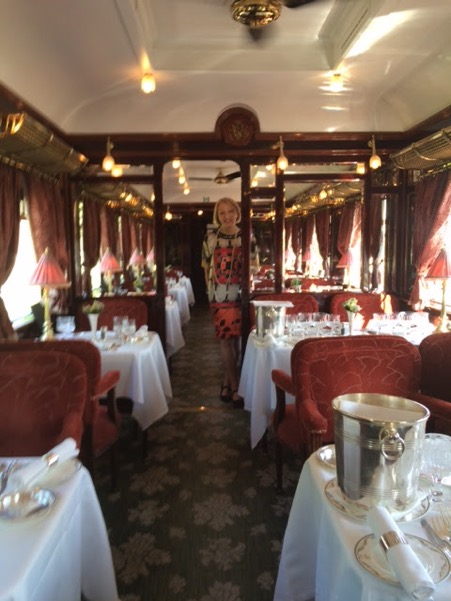 Checking out L'Oriental Dining Car.
We wandered down the train to explore the dining cars, boutique and bars and decided to have dinner in 'Lalique' in the first sitting at 7 o'clock.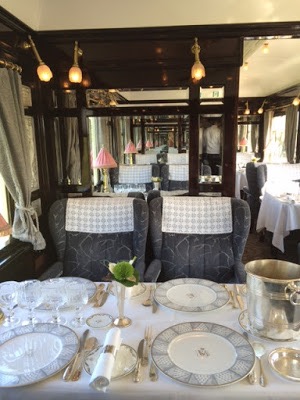 The Lalique designed dining car.
The real name of the dining car is Cote d'Azur or Dining Car 4141. The story is this: Built in 1929 and decorated by Rene Lalique for the luxury Cote d'Azur Pullman Express, it later served on the Deauville Express and then the L'Oiseau Bleu. After the war it was part of the Etoile du Nord and finally the Flèche d'Or luxury boat train, meeting passengers from the Golden Arrow. It is cool and sophisticated with silver grey velvet upholstery. The Lalique panels are exquisite, with beautiful sculptured opaque glass decorated with nude figures.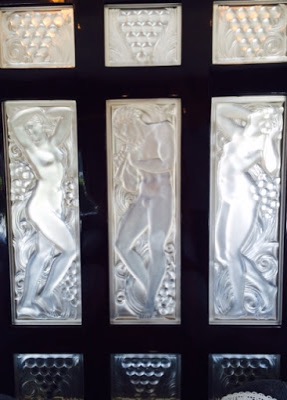 Time to get ready for dinner. I wore my 1920's tango and metallic flapper dress with matching silver shoes, fur stole and feather headband. David wore his tuxedo and we swaggered along to our favourite dining car - like a couple of swells!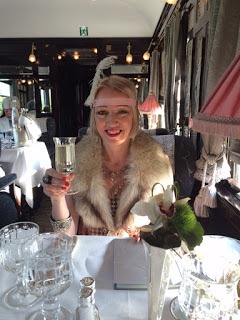 Dressed for dinner in the Lalique dining car - Courcelles-le-Comte.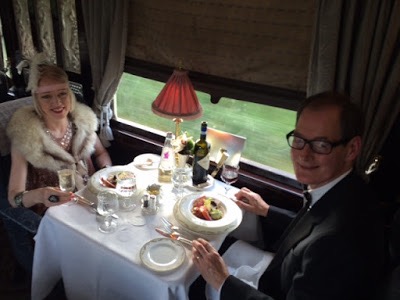 Bonne Appetite - Aubigny
The dinner was exceptional and we were completely spoiled - so much attention. Little groups around us were springing into song with 'Happy Birthday' and the rest of the carriage joining in. As the lady celebrating her 80th passed through, I asked the group behind us if they could to sing for her - she was thrilled!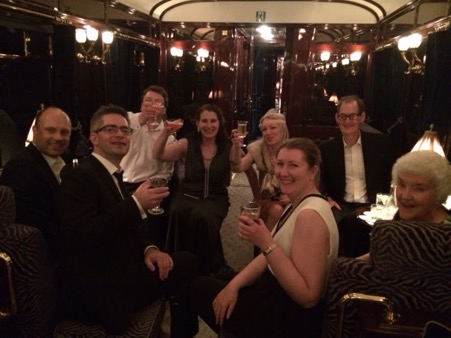 The champagne bar was nearby so we sat a while, sipping champagne, savouring the atmosphere and the company. Later we moved to the cocktail bar where the piano was being played. We ordered 'Guilty 12' cocktails (named after the novel 'Murder on the Orient Express') and it was far too easy to drink so I had to have another. We all laughed and chatted and we even danced - it was just a fabulous time!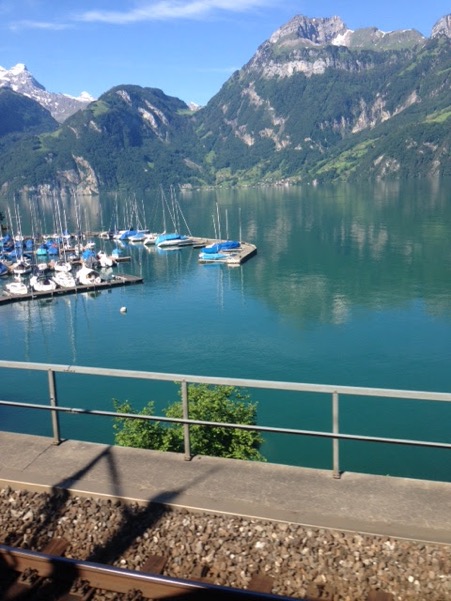 Our beds were bunks - but surprisingly comfortable and bigger than imagined. In the morning we awoke to the amazing sight of snow-capped Swiss Alps and glittering lakes. Continental breakfast was served in our compartment as we passed gracefully through the most beautiful landscapes. Everyone was mingling while watching the magnificent views.
Breakfast in our compartment - Fluelen.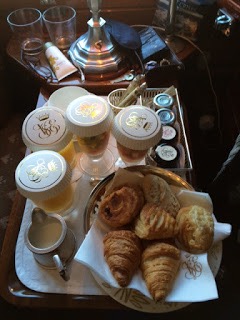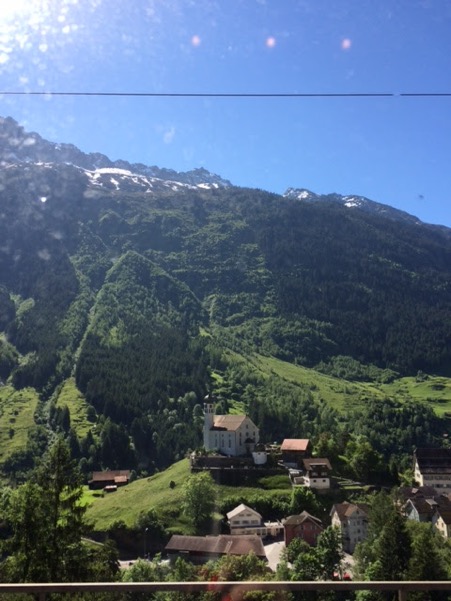 Wassen UR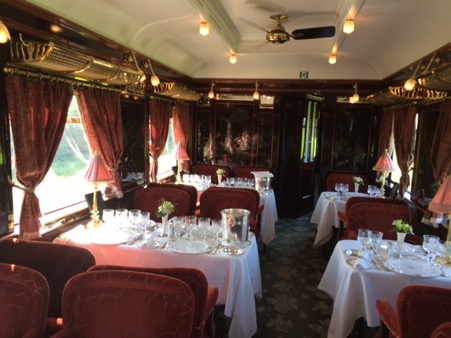 We chose to lunch in L'Oriental dining car. This carriage, no 4095, was actually built in Birmingham in 1927 as a kitchen car, in the 'Etoile du Nord' style. It was part of the Cote d'Azur Pullman Express which is synonymous with the Roaring Twenties. The walls are covered with black Chinese lacquer panels and the seats upholstered in sumptuous deep raspberry velvet, creating a rose pink glow in the sunlight.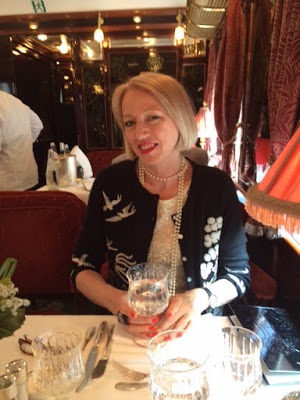 Lunch was delicious and the view became the gorgeous Italian Lakes - we were almost there!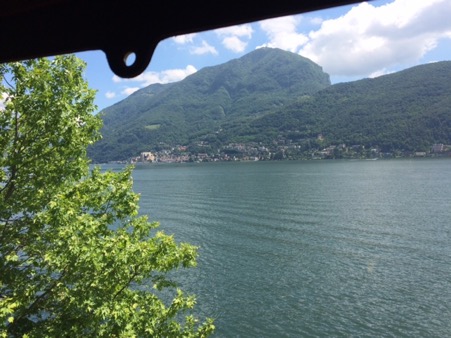 Lake Garda
Buona Sera Venezia!Our journey came to an end at Santa Lucia Railway Station - but we were in the city of dreams - so as one adventure ended, a new one began.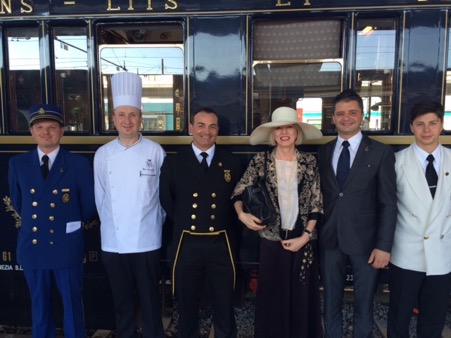 Arrivederci Orient Express!