Posted by Camille on 27th Jun 2012
Early one sunny Sunday morning all the staff and I arrived at the Jan Constantine warehouse to sign off, seal up and despatch the biggest order the company has ever had. There was great excitement because we like to celebrate important events, not only because this event marked a milestone in the company's history, but also because, for us it was a huge miracle to have reached this stage! (I won't enter into the depths of the proceeding events - we're in celebration mode now!)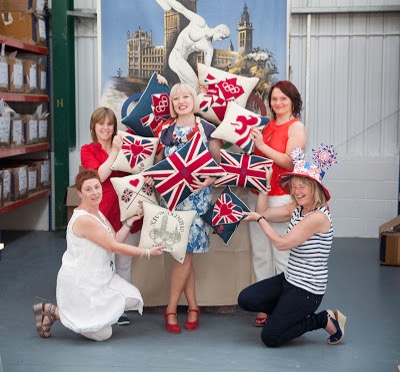 The destination was the London 2012 Olympic Megastore at the Olympic Park - Hooray!
To get to this point in time we had attended meetings and presentations, prepared cash flows and plans, made a bid and won an Olympic licence (a huge deal for our small company). I designed the collection, raised a huge loan, employed new staff, submitted our samples, upgraded the warehouse, exhibited at trade fairs, produced the stock - all just to be a part of the wonderful British Olympic Games.
We struck a deal with Grocontinental to use their 40 ton artic truck and driver, Brian, to deliver our Olympic booty and we borrowed a fork lift from the neighbours and all the husbands helped to despatch. This was one huge order!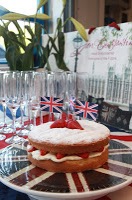 On the day, Nikki baked a patriotic cake and Diane organised the fizz. Even our children came to watch - and eat cake.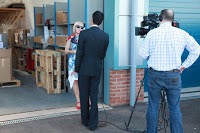 The BBC TV news team arrived earlier than everyone else!
The local press and the marketing & PR representative for Grocontinental, Hazel, came too and we hired photographer, Helen Cotton, to document the day. Linda Grocott and I posed for press with the Union Jack flag, sitting on the sofa on the back of the truck!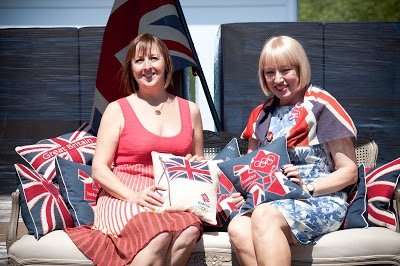 We all wore patriotic red, white and blue and proudly waved off the lorry with our Union Jack flags.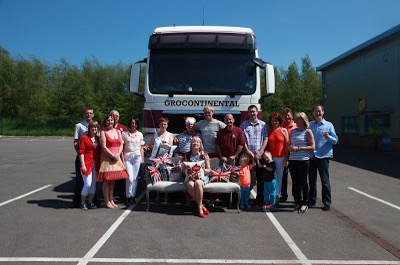 It was a wonderful event that we'll always remember.