Posted by Camille on 17th Apr 2012
Back in January, the Ideal Home Magazine team contacted me about a special very British project for the May issue. They asked if I could design and make a variation of my iconic British Isles wall hanging to grace their May issue front cover! The May edition is a celebration of the best of the United Kingdom and showcases the nation's creativity, diversity and strength.
Of course, I was delighted, agreed and got busy drawing up the elements that Emma and her team suggested I should add and the rest is history …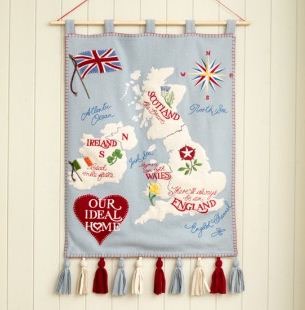 … it's a slightly bigger version of my original British Isles wall hanging but more rounded, with the addition of the full Emerald Isle (my grandmother was Irish – so that feels good!) and several meaningful national mottos. I've also added the ubiquitous blanket stitched, red Jan Constantine heart that brands my work loud and clear!

This unique piece is now up for auction to help raise funds for Centre Point, a UK charity that works to change the lives of homeless young people.
If you would like to help a very worthy cause and fancy owning a piece of literary history and an heirloom of the future as well, visit the House to Home website for more information. Please dig deep and email your closed bid to idealhomeevents@ipcmedia.com
Bidding starts at £200 and closes at midnight on 6th May. The winner will be notified shortly after the closing date and will need to pay by PayPal.