Accessories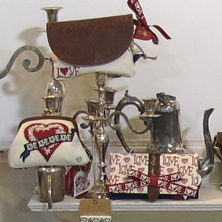 If you're searching for something a little different - have a look here....a fabulous new collection has been created in collaboration with Disaster Designs who design and manufacture quirky and unusual lifestyle accessories and design-led gifts.
This gorgeous concoction of funky handbags, hip flasks, holdalls, wash bags, wallets and purses is embellished with a combination of Constantine classical icons, in a mixture of applications including print, appliqué, embroidery, and laser detail.
We all love this accessories collection and it's a little step closer to my fashion background ... ummm... watch this space!